For six years Sandra Rinomato was the host of HGTV's number one show "Property Virgins" and in 2008 she released her first book "Realty Check: The Real Scoop on Real Estate". She is the recipient of the Stevie Award for Women in Business for Best Canadian Entrepreneur, and has toured across North America lending her expertise on programs like "The View," CNN, "Steven and Chris," "The Nate Berkus Show" and "Marilyn Denis." She currently operates Sandra Rinomato Realty, Inc in Toronto and is adamant that she knows what the fox says.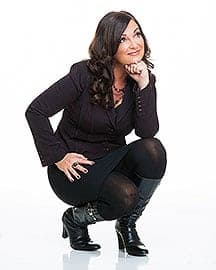 IA: Do you get a lot of jokes about the "Property Virgins" title?
SR: One Christian group in the early days wanted to have the show pulled because of the title. I'm Catholic and idolize the Virgin Mary so I don't see an issue with the word "virgin." Those dirty ladies always have sex on the mind.
IA: Was there ever a time when you wanted to tell a couple to go to relationship counseling before they purchased property together?
SR: Buying real estate can be bad for a relationship. I usually butt my nose in there and give them unsolicited advice about long term relationships. I feel I am an expert, I've had so many of them.
IA: At the end of "Gone With The Wind" Scarlet realizes the most important thing in life is owning property. How much do you think Tara would be worth today?
SR: Tara. Paula Deen owns that, right?
IA: What's the most Italian thing you do on a daily basis?
SR: Shave my back.
IA: Have you ever been busted by another driver for singing a little to enthusiastically in your car?
SR: Even I can't stand the sound of my own voice, so I play the kazoo instead. I get right into it.
IA: How many pairs of shoes do you own?
SR: I don't have many pairs, I have a lot of singles though. I find them along side highways and school yards.
IA: What book did you most recently read?
SR: I read A Farewell to Arms, and I have to be honest. I don't know what the noise is all about. I prefer Cosmopolitan Magazine.
IA: What is your favorite way to spend the weekend?
SR: Talking about myself.
IA: How long has it been since you had a Popsicle®?
SR: That's a really personal question.
IA: How do you inspire yourself when you feel a bit drab?
SR: That's a really personal question.
IA: What's the biggest difference in Canada and the USA?
SR: Wait, there's a difference? Oh yes, we won Gold in Women's Hockey.
IA: If you could eat only one food for the rest of your life what would it be?
SR: Popsicles®.
IA: Is there anything spoiled in your refrigerator right now?
SR: No, but there is something spoiled in my desk drawer.
IA: If you could costar on a talk show with any other celebrity who would you choose?
SR: Either Valerie Bertinelli or Leah Remini because I think we look alike. That way, if I wanted to take a few days off, nobody would notice. I like taking days off.
IA: How many marriage proposals have you received from fans?
SR: Only a couple. I did get an offer to dine with a guy in Chicago if I was ever in the city. He said he'd even pay for dinner! It's on my "To Do List." I mean, a girl's gotta eat!
IA: How much importance does social media play in your daily life?
SR: It's right up there with Popsicles®.
IA: If an alien craft came to the Earth, would you hide or want go back with them?
SR: I'd be afraid to go back with them. I mean, they are so short! I'd be a giant among them, and they would probably put me to work building pyramids or something.
IA: Why are Canadians so funny?
SR: It's delusion caused by CO fumes from barbecuing indoors in winter, which runs from September to July.
IA: Do you have any irrational fears?
SR: I don't think that fear of tiny spiders is irrational, but Cosmo says it is.
IA: Your favorite style of home decor?
SR: As I reflect upon this, looking around me, I see that "half finished" seems to be my thing.
IA: Who has given you the most valuable advice?
SR: Well, I have two to choose from. Let's see… They hired a coach when I first was cast on Property Virgins, and since I am uncoachable, we had an hour to kill. He told me what to expect in this new career path. One thing that stayed with me was that he said that people I know would treat me differently and I should not take it personally. He said that they would be dealing with their own insecurities or personality issues. Basically, he said "it's them, not you". Sadly, those words proved to be very prophetic. Wait, "prophetic" means a fake arm, right? Or the second one, my doctor advised me to sleep in a bra every night to keep my boobs perky. Yes, I'd say that's the one.
(Photo by Darren Goldstein/DSG Photo)