Creative
Interior Design
For Kids
Since 2004
At Imagination Atmospheres, we create amazing children's rooms. Our interiors stimulate young minds and prepare them for learning and for life-changing experiences of laughter, joy and celebration. These vital conditions bring kids back to your space over and over again.
Our clients are companies and organizations with a vision to inspire kids.
We design for schools and daycares, pediatric facilities, church children's ministries, retail shops, restaurants and amusement centers. If your location serves kids of any age, we design for you. We even create spaces for "kids" in business offices, assisted living centers, and pet hospitals. In fact, we're there for anyone who has no tolerance for boring surroundings. Our unique process allows us to create large and small spaces for groups on tight budgets who still require high quality and maximum WOW experience.
Whether your need is themed environments for large or small rooms, stage design for kids theatre or church, or specialty props, puppet stages or themed desks and kiosks, Imagination Atmospheres has a solution for you. Our consultations are always free, so start an inquiry into your new awesome kids space today. We're waiting for you.
Everyone is completely overwhelmed by your work! Since we opened, I have registered 24 new families (over 50 new kids!) into our KidZone program in just six short weeks! It's amazing! You have been key in making that happen!
Imagination Atmospheres did an amazing work at my office, They were so professional and incredibly nice, they captured everything I wanted for the murals at my pediatric office. I only told them which colors I wanted to use and what themes, and they designed such beautiful characters to go with my theme. I would highly recommend their work, if you are looking to design your dream office, this is where you should go.
Imagination Atmospheres knocked our socks off with their incredible work! From start to finish, working with the staff and crew of Imagination Atmospheres was a pleasure. Our kids love to come to church to explore the Main Street Station and we have Imagination Atmospheres to thank. Thanks for all your great service and a wonderful experience!
Thank you Imagination Atmospheres for creating a fun, exciting and safe environment for our entire Ultra Kids program at our church. The attention to detail and the excellence of product is second to none.  Every weekend we hear "there is no kids ministry like this on Long Island." That's exactly what we wanted and you delivered it.  Plus the price and professionalism were exceptional. We are grateful to Rick and the entire team. We highly recommend Imagination Atmospheres!
From The Blog
Keep up with our thoughts on art, creativity and our current projects by reading "The Gorilla Blog."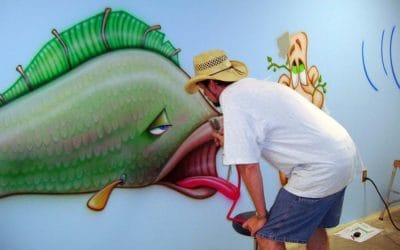 Have you wondered why we require the base coats for our mural painting to be flat? Also, why we paint our murals using a flat sheen? The reason for both is ultimately the same. When you pay to have a mural painted, the last thing you want is for viewers to not be able...
Ready To Get Started?
Our consultations are free so get started on your project today!