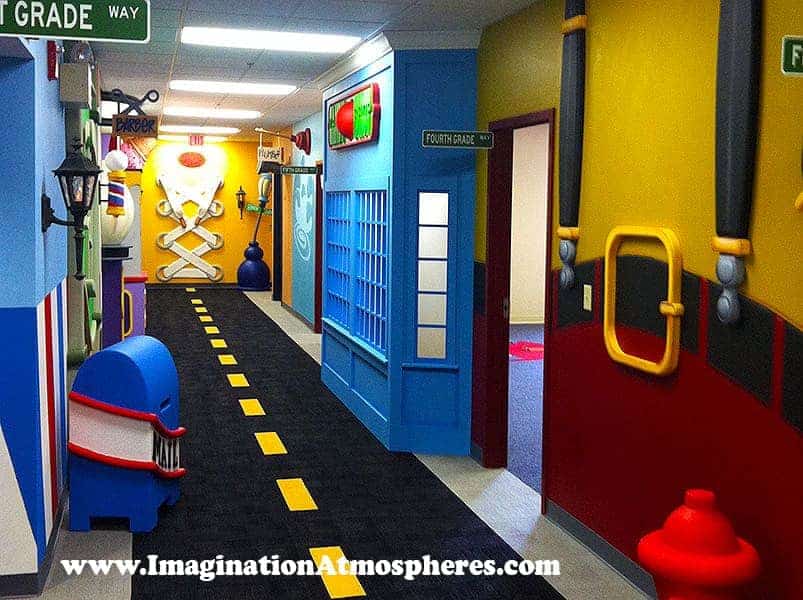 CenterPoint Church Hallway for Kids
The church hallway at CenterPoint Church in Concord, NH was so much fun to create and even more fun to walk through. We created a crazy, cartoon Main Street with a Fire Station, Candy Store, Plumber, Pizza Parlor, Bank, Ice Cream Shop and more! The Cinema features a fully illuminated movie marquee with changeable letters so messages can be customized as needed. The giant shoelaces of the Shoe Store were created by master sculptor George Ettenheim, lending an imaginative focal point as you look to the end of the hallway. Several working street lamps were featured throughout the space to light the way and create a perfect atmosphere.
A second floor of the space featured more shops such as a Doctor's Office, Police Station and Pet Shop. The stage back drop in the Worship Room showcased a large Graffiti Mural. You can watch a video of the making of the Graffiti Mural here.
It's always fun creating Main Street themes and we enjoyed installing this one during the beautiful New England autumn. We're confident the kids will love this themed church hallway for many years to come.
Contact Imagination Atmospheres today and let us begin working on a concept for you!