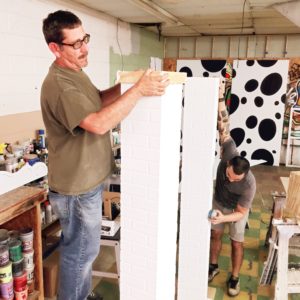 We are currently in the workshop, deep into a project build for the children's ministry of Goodlettsville Pentecostal Church in Goodlettsville, Tennessee. This project incorporates a Welcome and Sign-in Area, a Nursery Lobby and Nursery, a long Hallway leading to children's classrooms and a large Children's Worship Room. Each area has a unique theme ranging from a Train Station to a City Park to a Downtown Main Street village.
One of the challenges in theming large kids' spaces is designing unique themed areas that bring a "WOW Factor" to smaller areas, yet still work in harmony with the overall theme design. If we design a kids' City Park in the same space as a City Garage, both themes need to feel like they belong to the same themed environment. This is accomplished by using sculpture, architecture, murals and artwork of similar styles, colors and design. We wouldn't want to put a cartoon Train Station in a realistic Main Street environment or paint realistic animal murals for a cartoon zoo.
This is one of our favorite types of projects. It gives us an opportunity to create 3-D environments, cartoon murals, lots of fun Main Street shops and even a couple of large sculpted trees for the City Park theme. It's one of those themes that has it all and that's always a fun time for artists. We'll be sure to post photos of the completed project here and on our Facebook Page, so come back for the big reveal!