Moses Parting The Sea Mural

Making a serious Bible story come to life in a way that communicates to children is not always easy. It's the ongoing task of every Children's Pastor and Kid's Ministry. One tool to help accomplish this task is incorporating effective kid's church room design and theming. We're all aware that kid's learn more when they are stimulated to do so by their environment and one of the more effective ways to stimulate them to learn is by telling a story using wall murals. It's a way for children to not only see the important elements of a story, but to feel as if they are actually experiencing that story. Through experience, a child makes emotional connections and it is because of those connections, they will remember the stories for the rest of their lives.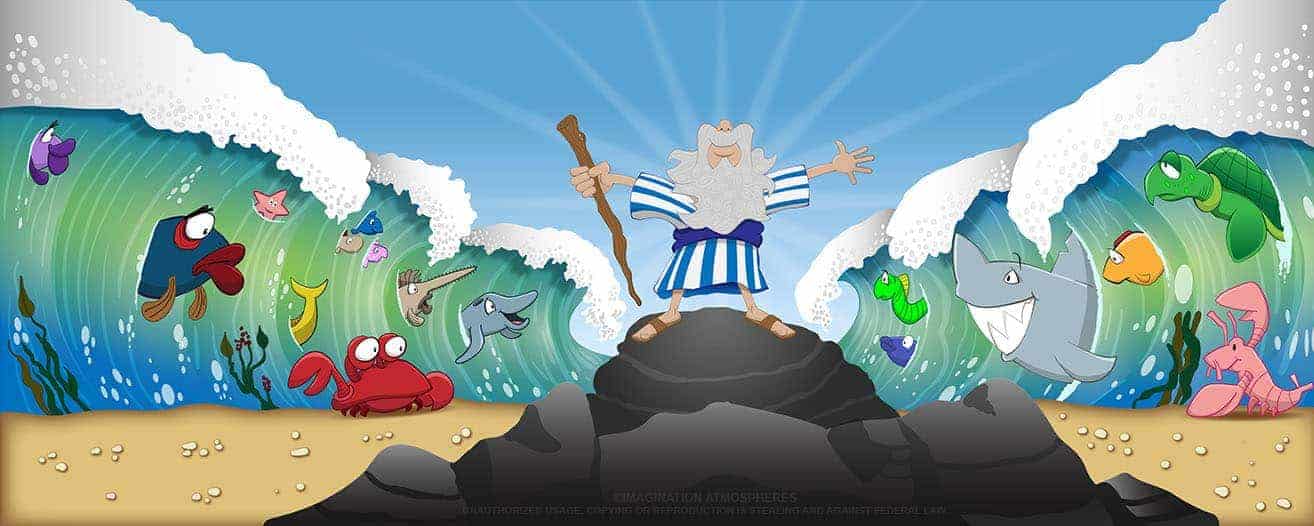 Making stories come to life through murals and themed environments is what we do best at Imagination Atmospheres. We've been painting murals and building themed environments since 2004. Within that time, we've designed several Bible story murals for kids' church rooms and children's ministry areas that have proven to be very popular with the kids themselves. Ranking way up there in the list of top favorite Bible stories is the tale in Exodus of Moses parting the Red Sea. Now, you might question how this story can be a kid friendly one. Most of us have seen The Ten Commandments movie with Charlton Heston parting the waters so the Israelites can go through, only to turn around and close it, causing hundreds in the Egyptian army to perish. While I loved that movie as a kid, that particular scene terrified me (as it would most kids) and it isn't a part of the story a kids muralist would want to highlight on a church wall.
Our "Moses Parting The Sea" mural features Moses himself at the center of the mural. His arms are outstretched and several sea creatures happily peer out from the waves of the parted Red Sea. This mural is one of our largest wall murals at 10′ x 25′ and can be scaled down proportionally to 8′ x 20. Even as a fun, humorous, cartoon mural, the story is dramatic and one that children will not soon forget as they stand in the middle of the parted ocean. The scene will inspire questions from the kids and give teachers the perfect opportunity to do what they do best: Teach.
Our Bible story murals are professionally printed on durable vinyl wallpaper for an easy to install, easy to clean, easy to maintain experience. The "Moses Parting The Sea" mural comes in 6 panels and is printed for invisible seams at the overlapping areas. The mural can be installed with some difficulties by one person but easily installed by two or more installers. Standard vinyl "wallpaper paste" is required for adhesion. Please allow 14 – 21 days for production and shipping of the mural. If you have special sizing requests, installation challenges or any questions regarding the product, email us or give us a call at 800-621-0236.