Custom, Hand-Painted, Commercial Murals for Kids Rooms
An Investment In Your Children
Your kids are your most valuable resource. The spaces in which they spend the majority of their life should be safe, inspiring and assist them in becoming the best people they can be.
We began designing commercial kid spaces in 2004 utilizing murals, themed environments and custom prop fabrication. In 2022 we decided to focus our creativity exclusively on hand-painted murals. Our murals are one-of-a-kind and bring to life children, youth and adult spaces. 
Our Hand-Painted Wall Murals
For centuries murals have been one of the most effective ways to change the look of a room. By using only a paint brush and paint, a simple room can be transformed into a deep jungle rainforest, creaky pirate ship, vast outer space, neon techno-world, scary haunted house or the noble Noah's Ark.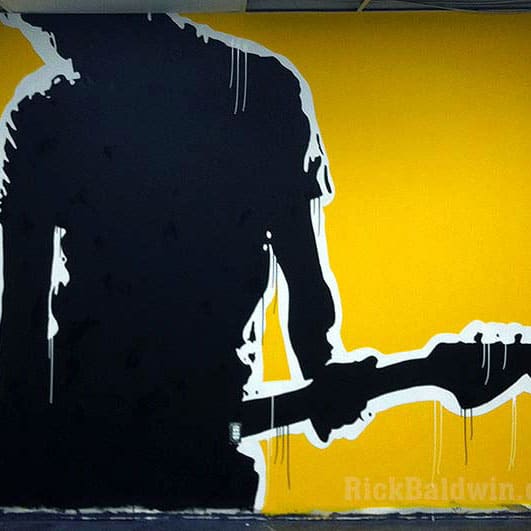 Imagination Atmospheres believes that murals are the foundation to a strong themed environment and we custom-create all of our murals based upon your individual needs. We work along with you to design the exact murals you need for your room, whether the need be realistic, cartoon, fantasy or abstract. Each of our murals utilize the latest in long-lasting paint that is safe for you and your environment and is painted for a cost that makes your budget smile just as big as your audience.
In today's age where everything is pre-processed, pre-fabricated and pre-printed, our skilled artists paint your unique mural concept by hand into a one-of-kind piece of artwork. You won't see your mural in any other location.
Our cartoon murals have become a favorite with children in daycares, schools, churches, hospitals, restaurants and amusement areas. We create special hand-painted murals for your children's room no matter what their age. Our mural style ranges from cartoons, to fantasy to graffiti to the whimsical.
Each mural is custom created for your kids and can be personalized in many different ways. We use the philosophy of the Warner Brothers and Disney studios that says "Never underestimate the sophistication of your audience." Our murals creatively entertain with art and humor while at the same time enhancing an otherwise drab and boring space. so whether you are designing for a bowling alley, skate center, children's museum or aquarium,  Imagination Atmospheres designs murals that will bring your kids back over and over.
Custom Hand-Painted Church Murals
Wake Up Your Children's Ministry
Church murals may have Bible topics or may simply be a jungle, ocean or space environment, main street or town square. You are only limited by your own imagination and how much "wow factor" you want to deliver to your kids and church visitors.
Church Focused
Every church is different with a different mission. Our murals range from modern and extreme to traditional and Bible-based.
Custom Designs
We work with you from the beginning of the process to create something that works best for your unique space and budget. Whether you decide on a mural that is hand-painted or a vinyl wall covering, we'll help you customize your space so that it is uniquely yours.
Hand-Painted Bible Story Murals
Fun and Creative
Children and young people respond to humor and we believe humor can be a valid teaching tool. We incorporate humor and whimsy in our cartoon Bible story murals – not in an irreverent way but in a way that encourages children to look at the story in a new light. It brings a fresh understanding to stories that have been told the same way for centuries.
Familiar Friends
Bible Story Murals bring the characters and personalities of the Bible to life in a child's mind. We've created murals of Noah's Ark, Moses, Zacchaeus, Queen Esther, Jesus and the Apostles, characters from Jesus' parables, David and Goliath, Samson and Delilah and many others.
An Inspired Learning Environment
A well-designed children's ministry space gives you the optimal opportunity to teach in a atmosphere of fun, creativity and inspiration. Studies show when kids are inspired, they want to return often so it's vital you give them the proper creative surrounding. Our Bible story murals have proven to provide that creative learning atmosphere kids want to come back to regularly.
Custom Designed Hand-Painted Pediatric Murals
Set Your Practice Apart
Kids and their parents will remember your pediatric medical or dental practice over the offices with the plain, boring walls. Advantage: you!
Put Your Patients At Ease
Pediatric murals can instantly put a nervous child at ease making the job of the pediatric dentist, nurse or pediatrician a little bit easier. Laughter does, indeed make the medicine go down easier and our creative, fun, cartoon murals add just the right amount of humor to your environment to accomplish that mission.
Single Rooms Or Entire Facility
We can create themed murals for your entire facility, one or multiple hallways or select exam or waiting rooms. How about different mural themes for different exam room? There are endless mural themes to transform your medical facility into a jungle, medieval castle, old west town and more. We can even work after hours so you don't have to shut your office down.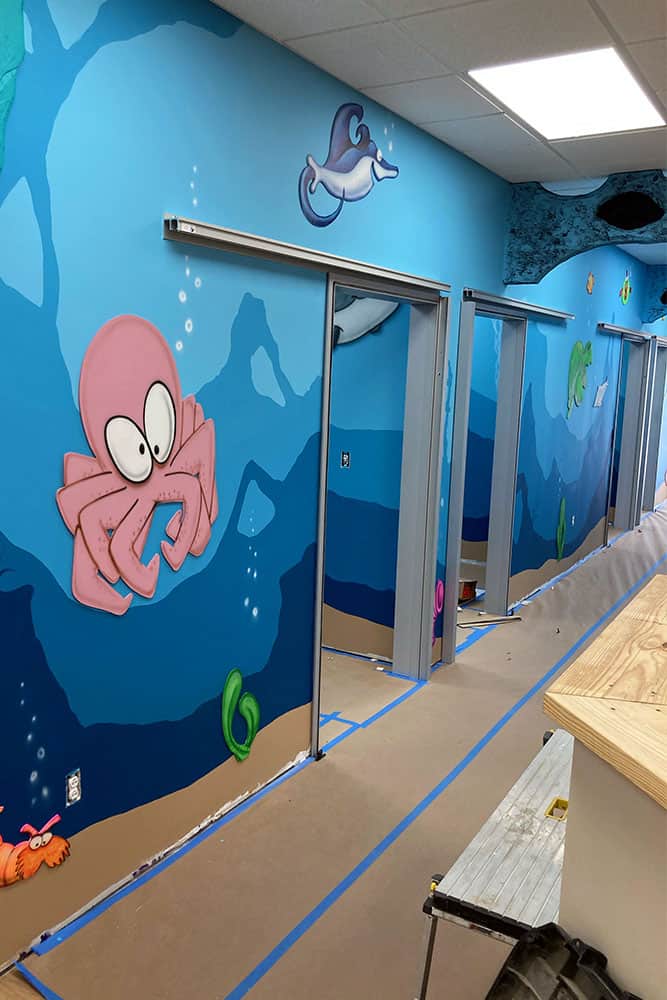 Thank you for helping us create an exciting and inviting area for our preschoolers and their families! Imagination Atmospheres was incredible to work with throughout the entire process and completely exceeded our expectations in their quality of work, creativity, and value for our budget. I love hearing our families, volunteers, and staff so excited about the new look of our space! I would highly recommend Imagination Atmospheres, and would absolutely choose to use them again for future projects!
Ready To Get Started?
Our consultations are free so get started on your project today!