No matter what type of themed environments you utilize in your church, theme park or pediatric office, the first impression most people will get of the experience that awaits them is the Check In or Sign In Desk. An interesting and exciting themed Sign In Desk is a vital part of your facility design, so don't forget it when planning your project.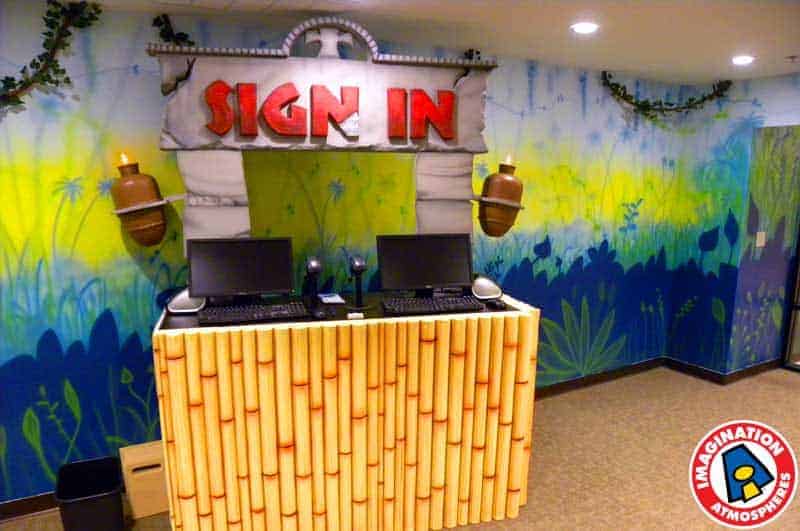 The Check In Desk serves many functions. In a church environment it may be where the parents register the children for Sunday or Sabbath school  and drop the babies off for nursery care. In a theme park, the Check In Desk may be where tickets are sold or information is distributed. In a medical environment, the Sign In Desk may be where nurses or other staff members greet patients, gather information and  secure appointments. Whether your venue is a museum, haunted house or restaurant, the Sign In Area is often where your patrons initially gather, so it makes sense that it should be designed for both theming and function.
The design of your Sign In Desk will depend on your needs, your budget and the theme of your environment. Imagination Atmospheres can custom design your Sign In Desk from the ground up. If needed, we can incorporate sound, lighting or other special effects. We can add 3-D sculptures and mural techniques to ensure that your Sign In area draws your customers in and give them a focus for the start of the experience that awaits. If your needs are more simple, Imagination Atmospheres can create smaller kiosks for computer terminals or even theme your existing desk or structure to fit your environment.
Your Sign In area is one of the most vital parts of your themed environment, so don't neglect it when planning your theming project. Ensure that it has an exciting design that will give your customers a perfect introduction and keep them coming back for more.